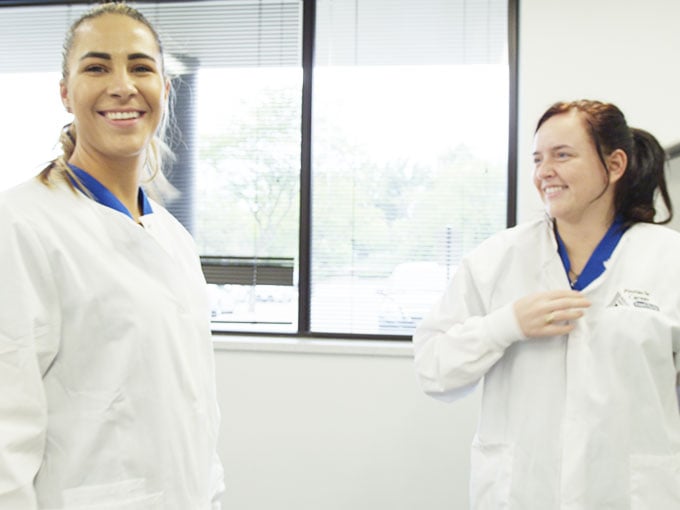 CREATE HEALTHY SMILES AS A DENTAL ASSISTANT
Join the growing field of Dental Assisting and change your life. PCI makes Dental Assisting fun with our inviting classrooms and dentistry lab. You can learn the skills you need to succeed in this exciting profession.
Program Highlights
Career Centered Courses:
Overview of Dental Assisting
Anatomy, Physiology, Oral Health & Prevention
Dental Assisting: Instruments & Materials
Dental Radiology
Chairside Assisting: General Dentistry & Dental Specialities
Dental Assisting Externship
Hands-on Learning
Gain hands-on experience in our classes and dental lab that mix theory and skill. At the end of your program, you will complete an externship in a dental office, building your confidence. PCI's experienced instructors will help you gain the knowledge you need to excel in your new career as a Dental Assistant.
Are You Career Training Ready? Find Out!
Take The Pinnacle "Career Training Readiness Quiz" The fun, online quiz takes 3-minutes to complete and you'll get a personalized report. Identify your strengths and social style plus the training and positions you're best suited for. Get Your Career Training Readiness score now.
* - Program length is assuming continual full-time enrollment and satisfactory academic progress.
** - Median salary information and projected job growth is from: Bureau of Labor Statistics, U.S. Department of Labor, Occupational Outlook Handbook, Dental Assistants,
on the Internet at https://www.bls.gov/ooh/healthcare/dental-assistants.htm (visited December 18, 2019).
Program Length
40 Weeks*
Est. Median Salary
$18.59 per hour | $38,660 per year**
Who Hires PCI Grads
Pacific Dental
Antioch Dentistry
Smile Direct
Dr. Emily Cortes
Dr. Jeffrey Clark DDS
Raytown Smile Care