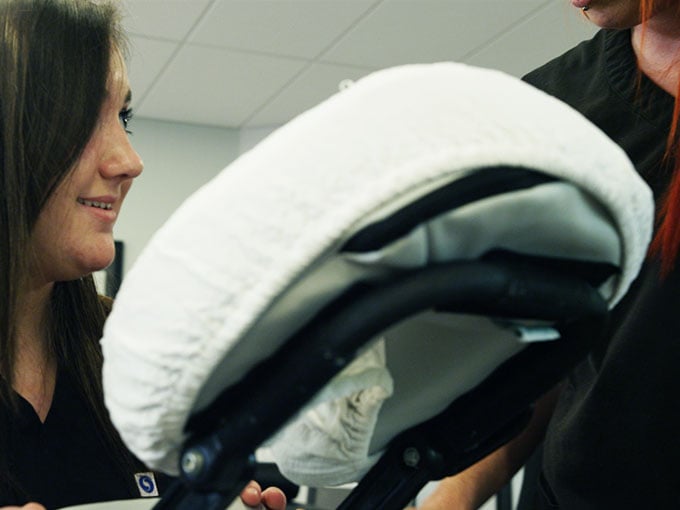 Become a Massage Therapist
Join our engaging and holistic Massage Therapist program to learn the skills you need for a hands-on career. Training for the Massage Therapist program at PCI includes classroom, hands-on, and online instruction that covers several learning styles. This program prepares students for entry-level positions in Massage Therapy and meets the Missouri Board of Therapeutic Massage (MBTM) educational requirements. Graduates of the program are qualified to take the Massage & Bodywork Licensing Examination (MBLEx) and to apply for a Missouri massage therapy license with evidence of passing the MBLEx exam.
In this short program, you will learn many styles of massage such as sports, Swedish, and deep tissue massage, as well as advanced modalities like reflexology. You will discover techniques that will make you a prime candidate to work in a spa or gym, or use the expertise you gained to start your own business.
Massage Therapy Training Highlights
Career Centered Courses PCI's Massage Therapist program will give you a wide range of skills enabling you to thrive. Some of the skills that you will learn include Swedish Massage, trigger point therapy, hot stone massage, aromatherapy, and prenatal massage.
Hands-on Learning Our classes are set up to maximize your understanding of Massage Therapy and give you the hands-on experience you need to be successful. You will take what you learn in class and practice your skills in the on-campus clinic. During your time in clinic, you will learn the business side of Massage Therapy to give you the skills you need to start a successful career. The hands-on training will better prepare you to pass the Massage and Body Work Licensing Examination (MBLEx) at the end of the program.
Education that works for your life Think you're too busy for school? PCI's program is designed to fit seamlessly into your busy life. Small class sizes allow for individual attention — critical for learning new skills. Our flexible class scheduling minimizes your time commitment but allows maximum benefits to you and your future. You can complete your Massage Therapy education in under a year and be on your way to an exciting new career.
Give Your Career a Healing Touch
There are several Massage Therapist training programs to choose from in and around Kansas City, but if you want Massage Therapy training that will help you get the education you need to succeed, you'll find it here at PCI.
The Pinnacle Career Institute Experience
Your experience is what matters most to us! We strive to support your educational journey before, during, and after you graduate from our Massage Therapist program. We know when our students succeed, we succeed—that's the PCI Difference!
Pinnacle Career Institute is accredited by the Accrediting Commission of Career Schools and Colleges (ACCSC). The Accrediting Commission of Career Schools and Colleges (ACCSC) is a recognized accrediting agency by the U.S. Department of Education. Financial aid is available to those who qualify.
Are You Career Training Ready? Find Out!
Take The Pinnacle "Career Training Readiness Quiz"
This fun, online quiz takes 3 minutes to complete. You will receive a personalized report to identify your strengths and social style plus the training and positions you're best suited for.
Get Your Career Training Readiness score now.
* - Program length is assuming continual full-time enrollment and satisfactory academic progress.
** - Median salary information and projected job growth is from: Bureau of Labor Statistics, U.S. Department of Labor, Occupational Outlook Handbook, Massage Therapists,
on the Internet at https://www.bls.gov/ooh/healthcare/massage-therapists.htm (visited December 28, 2019).
Program Length
25 Weeks*
Est. Median Salary
$19.92 Hourly | $41,420 Annual**
Who Hires PCI Grads
Massage Envy
Massage Heights
Plaza Day Spa
New Life Massage
Mathney Chiropractic
Beauty Brands