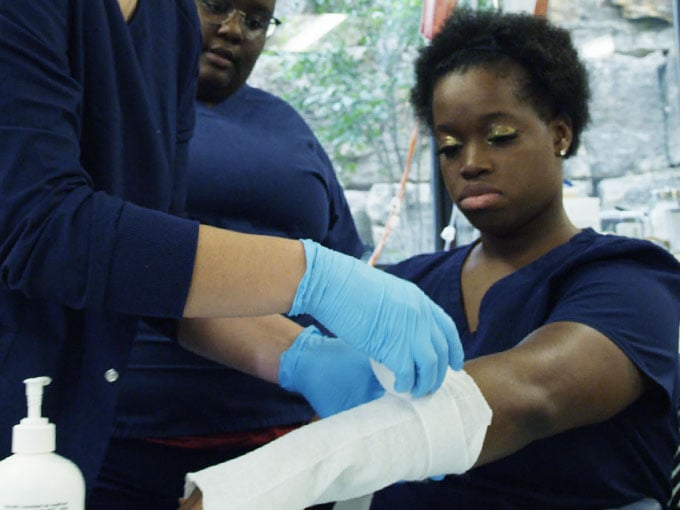 You have Medical Assistant Training Questions. We have Answers!
From which medical assisting school is the best to researching medical assistant careers, there are a lot of things to consider before you throw yourself into a career-building program. We're here to answer as many of the "how to become a medical assistant" questions as possible!
Will I be a certified Medical Assistant at the end of this program?
At the end of this program, you will receive a certificate of completion and sit for the National Healthcareer Professionals certification exam to become a CCMA.
Are there any types of special immunizations required to work in this field?
Students need to have the Hepatitis B series as well as the TB skin test to work in the externship environment.
Will I actually get to work on live patients during my training or will it only be with manikins?
Your training will consist of working on both manikins and live patients.
What is the job outlook for Medical Assistants?
Employment of medical assistants is projected to grow 23 percent from 2018 to 2028, much faster than the average for all occupations. The growth of the aging baby-boom population will continue to increase the demand for preventive medical services, which are often provided by physicians. As a result, physicians will hire more assistants to perform routine administrative and clinical duties, allowing the physicians to see more patients.
Are You Career Training Ready? Find Out!
Take The Pinnacle "Career Training Readiness Quiz"
The fun, online quiz takes 3 minutes to complete. You'll get a personalized report to identify your strengths and social style plus the training and positions you're best suited for.
Get Your Career Training Readiness score now.
* - Program length is assuming continual full-time enrollment and satisfactory academic progress.
** - Median salary information and projected job growth is from: Bureau of Labor Statistics, U.S. Department of Labor, Occupational Outlook Handbook, Medical Assistants,
on the Internet at https://www.bls.gov/ooh/healthcare/medical-assistants.htm (visited January 09, 2020).
Program Length
40 Weeks*
Est. Median Salary
$16.16 per hour | $33,610 per year
Who Hires PCI Grads
KU Medical
HCA Midwest
Test Smartly Labs
Encompass Medical Group
St. Luke's Medical Center
Midwest Cardiology & Associates