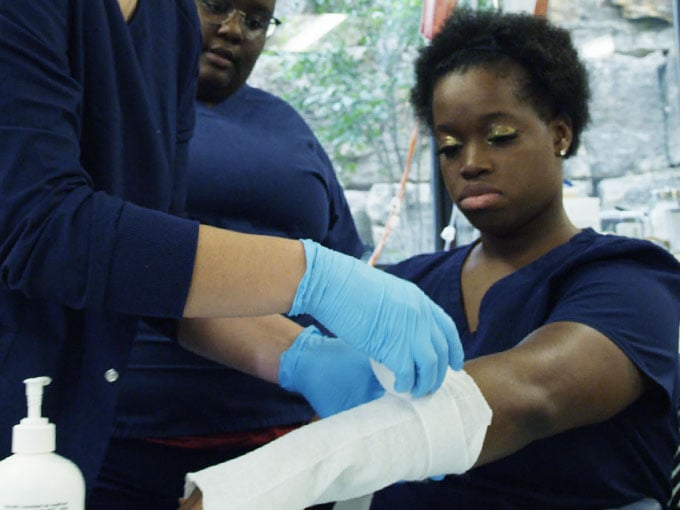 We offer both days and evening classes that meet three times a week. This gives you the flexibility to balance school with everything else in your life.
Program Highlights
Career Centered Courses:
Introduction to Medical Assisting
Human Anatomy & Physiology
Special Senses; Surgical Specialty Procedures
Clinical Laboratory, Microbiology, Hematology, Immunology
Stages of Life and Reproduction
Cardiopulmonary, Lymphatic/Immune Systems; Nutrition
Hands-on Learning
Gain hands-on experience in our classes and medical assisting lab that mix theory and skill. Throughout the program you will also spend time in actual medical settings, shadowing and learning from professionals. You will have an additional externship at the end of the program, building your confidence. PCI's experienced instructors will help you gain the knowledge you need to excel in your new career as a Medical Assistant.
Are You Career Training Ready? Find Out!
Take The Pinnacle "Career Training Readiness Quiz"
The fun, online quiz takes 3-minutes to complete and you'll get a personalized report. Identify your strengths and social style plus the training and positions you're best suited for.
Get Your Career Training Readiness score now.
* - Program length is assuming continual full-time enrollment and satisfactory academic progress.
** - Median salary information and projected job growth is from: Bureau of Labor Statistics, U.S. Department of Labor, Occupational Outlook Handbook, Medical Assistants,
on the Internet at https://www.bls.gov/ooh/healthcare/medical-assistants.htm (visited January 09, 2020).
Program Length
40 Weeks*
Est. Median Salary
$16.16 per hour | $33,610 per year
Who Hires PCI Grads
KU Medical
HCA Midwest
Test Smartly Labs
Encompass Medical Group
St. Luke's Medical Center
Midwest Cardiology & Associates