Earn Your Medical Assistant Certification Online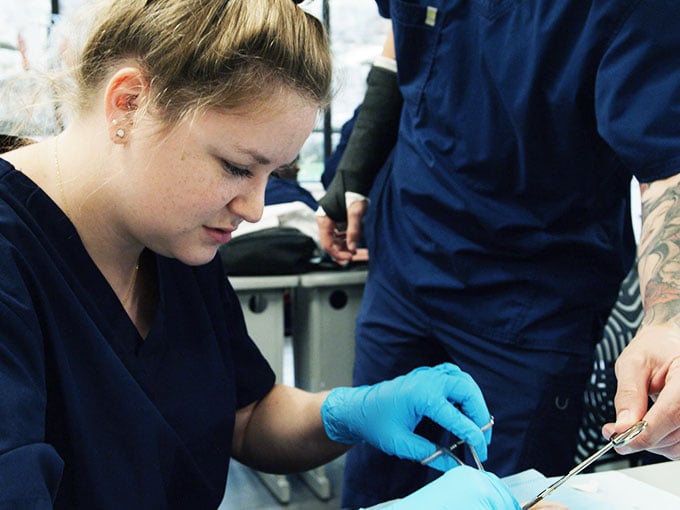 For our on-campus program, please go to: https://www.pcitraining.edu/medical
Go Online for the Training to Become a Certified Medical Assistant
The Online Medical Assistant Certification program is a modern and convenient way to gain the skills and knowledge you need to succeed in the field of healthcare. Our online medical assistant training can help you build skills in areas ranging from checking vitals and EKGs to better communicating with both patients and medical staff.
Online Medical Assistant Program Highlights
Industry Experienced Instruction
Our instructors have their certifications and offer real-world insight from real-world experience.
Career Centered Courses
Our medical assistant training online classes will prepare you for a wide range of jobs on the medical team. We cover both clinical and administrative skills.
Education that works for your life
The scheduling flexibility provided by your online medical assistant training class schedule gives you the time you need to go back to school and change your life.
Fast Paced
Our program has five week classes, allowing you to graduate in as little as 40 weeks.
Hands-on Career Training
The highlight of our dynamic online Medical Assistant training program is an exciting 10-day boot camp. Although the majority of your training for your online medical assistant certification is online, this hands-on training in conjunction with your classwork experience, will help you build new skills and gain confidence in your new career. Boot camp is held in Kansas City, Missouri. During boot camp you will learn and practice checking vitals, drawing blood, administer injections and more!
The PCI Experience
At PCI, your experience is what matters most to us! We strive to support your educational journey before, during, and after you graduate. We know when our students succeed, we succeed- that's the PCI Difference!
Learn more about how PCI stands out among other career schools. Contact us today for more information.
Pinnacle Career Institute is accredited by the Accrediting Commission of Career Schools and Colleges (ACCSC). The Accrediting Commission of Career Schools and Colleges (ACCSC) is a recognized accrediting agency by the U.S. Department of Education. Financial aid is available to those who qualify.
Are You Career Training Ready? Find Out!
Take The Pinnacle "Career Training Readiness Quiz"
The fun, online quiz takes 3-minutes to complete and you'll get a personalized report. Identify your strengths and social style plus the training and positions you're best suited for.
Get Your Career Training Readiness score now.
* - Program length is assuming continual full-time enrollment and satisfactory academic progress.
** - Median salary information and projected job growth is from: Bureau of Labor Statistics, U.S. Department of Labor, Occupational Outlook Handbook, Medical Assistants,
on the Internet at https://www.bls.gov/ooh/healthcare/medical-assistants.htm (visited January 09, 2020).
Program Length
40 Weeks*
Est. Median Salary
$16.16 per hour | $33,610 per year
Who Hires PCI Grads
KU Medical
HCA Midwest
Test Smartly Labs
Encompass Medical Group
St. Luke's Medical Center
Midwest Cardiology & Associates