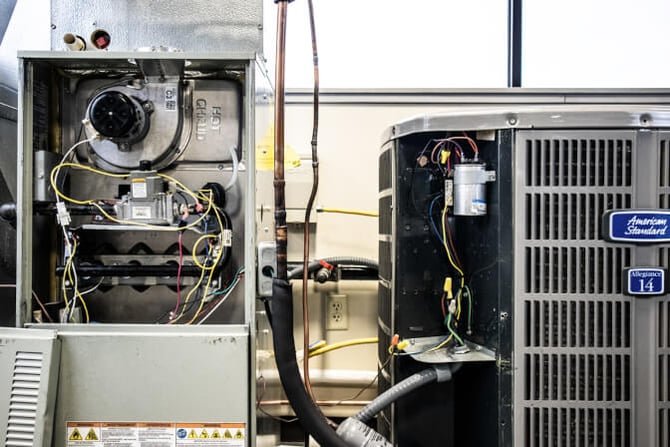 Pinnacle Career Institute's Online HVAC Technician Program is designed to provide individuals with the skills and knowledge needed to repair, install, service, and maintain the operating condition of the heating, air conditioning, and refrigeration systems. Additionally, our program includes instruction in diagnostic techniques, the use of testing equipment, and the principles of mechanics, electricity, and electronics related to the repair of heating, air conditioning, and refrigeration systems.
Graduates are fully prepared for entry‐level positions including, but not limited to, A/C Tech; HVAC Installer; HVAC Mechanic; HVAC Service Tech; HVAC Specialist; HVAC Tech; HVAC Technician; Service Technician.
Please note this course does include a residential component in Kansas City, Missouri, for 10 consecutive days.
At the core of this next-level capstone course is an 80-hour boot camp in Kansas City, Missouri. This time provides a review of program learning objectives taught during the HVAC technician program, as well as the opportunity to learn and practice program competencies that include:
• Furnace installation and service
• Creation of air distribution systems
• Testing AC circuits and components
• Assembly of copper, plastic, and carbon steel piping
• Installing vent systems
• Fabrication and installation of sheet metal and fiberglass duct systems
• Installation and maintenance of heat pumps
• Installation and service of compressors
• Using refrigerants and lubricating oils
The HVAC technician course at Pinnacle Career Institute also includes resume writing, interviewing, and job search skills.
Arrangements for air travel to Kansas City, Missouri, lodging, and program‐related local transportation are provided during the boot camp. These costs are included in program tuition. Discretionary incidental expenses are the responsibility of the student. Students should plan to be in Kansas City, Missouri for ten consecutive days; additional time may be required for travel.
Major Equipment List for the HVAC technician course:
Variety of hand tools
Electrical training boards
Metal benders
Refrigeration training units
Walk-in cooler and freezer
Small refrigeration units
Rooftop package units
Electric air handlers
Heat pumps
Torches
Recovery units and drums for refrigerant
Vacuum pumps
Nitrogen bottles
# phase motors
DC trainer.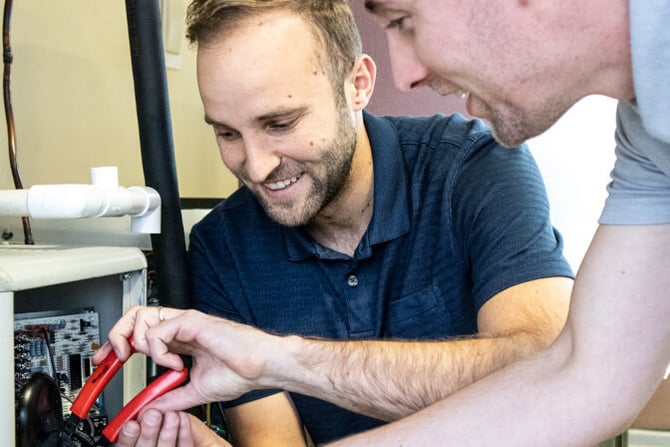 The PCI Experience
At Pinnacle Career Institute, your experience is what matters most to us! We strive to support your educational journey before, during, and after you graduate. When our students succeed, we succeed - that's the PCI Difference!
Since the beginning, Pinnacle Career Institute has been dedicated to helping qualified individuals find success in a field that they're passionate about. For over 60 years, our team of professionals has dedicated time to ensuring every program that we offer provides the relevant training for the individual trades.
If you're ready to start your career as an HVAC technician, look no further than the online HVAC technician courses at Pinnacle Career Institute. Learn more about PCI and how we stand out among other career schools. Contact us today for more information.
Pinnacle Career Institute is accredited by the Accrediting Commission of Career Schools and Colleges (ACCSC). The Accrediting Commission of Career Schools and Colleges (ACCSC) is a recognized accrediting agency by the U.S. Department of Education.
Program Length
The HVAC technician course at Pinnacle Career Institute is a 40-week program. The duration is calculated assuming a student is enrolled full time and has satisfactory academic progress throughout the program.
This program is primarily online but does require a residential component in Kansas City, Missouri. The in-person portion of this program will last for 10 consecutive days. The cost of the 10-day stay in Kansas City is factored into the cost of the program, so there is no additional cost that students will be expected to pay in order to complete the course.
Salary and Job Outlook
After completion of the HVAC technician program at PCI, there are various opportunities that individuals can take to start their career in the HVAC industry. As with any career, positions will vary from company to company. In the same way, salaries and benefits will also vary depending on the state and the company.
To get the most up-to-date information regarding the salary for certain positions in various states is to check the U.S. Bureau of Labor Statistics, Occupational Employment, and Wage Statistics regarding HVAC technician positions. Visit their website for more information on the HVAC industry.
Who Hires PCI Grads
There are various employers that take on graduates of the PCI HVAC technician program. If you're ready to jump right into the next chapter of your career, the following are companies that have been known to hire on PCI graduates.
Anthony's Heating and Cooling
Climate Control
P.I. Group/Union
Prism Real Estate
HVAC Technician Career Path Options
The completion of the HVAC technician program opens the doors for countless positions across the country. The goal of PCI has always been and will continue to be, to provide driven, hard-working individuals with the information and experience necessary to thrive in their given field. Once the course has been completed, there are various paths that you can choose to take, including the following:
AC Technician
One of the most common career paths and a job that is always high in demand are AC technicians. This can be both for residential and commercial properties. An AC technician is going to be responsible for ensuring that AC units in both homes and businesses are functioning properly. This can be in the form of maintenance as well as repairs.
HVAC Installer
A position that keeps the industry moving is an HVAC installer. This career path focuses on the installation of the various components of an HVAC system. Individuals in this position will need to have a thorough understanding of how these systems work, how to put them together, and how to complete repairs and maintenance on the fly. Understanding how to read blueprints is another skill set that HVAC installers should have to thrive in this career path.
Project Manager
A project manager is going to be responsible for overseeing new projects that require HVAC construction. Individuals in this position will often be a consultant for construction companies or a contractor. Essentially, the job is to assess the project and provide insight on the best method of installing or renovating HVAC in a project. This is an exciting job for individuals who enjoy working in team settings and would rather look at the bigger picture with HVAC units.
HVAC Sales Professional
If you are a salesperson through and through, the good news is that there is always a need for sales professionals in the HVAC industry. Individuals who choose this career path can expect a financially rewarding job. As with any sales position, HVAC sales professionals will have to help prospective customers find the right unit for their needs. In regards to prospects, HVAC sales professionals may be speaking with both residential and commercial clients. This is yet another career opportunity within the HVAC industry that requires an understanding of how the units work but does not require hands-on work with HVAC units on a day-to-day basis.
Specialty Technician
If you enjoy being a master at your trade, finding a specialty position can be extremely rewarding. With regards to the HVAC industry, there are various opportunities to find a specialty. For example, there is an opportunity to become an automotive HVAC technician and work solely on the units in cars. Alongside that, there are also refrigeration technicians who work on the cooling systems within residential and commercial refrigerators. So, if you are looking for something that can become your niche, there are several opportunities to do so in the HVAC industry.
Apply to the HVAC Technician Program Today
Now that you have a better understanding of what to anticipate with the HVAC technician program at PCI and have read about just a few of the career paths available to individuals with this knowledge, it's time to start investing in your future. Submit your application to the HVAC technician program today. Reach out to our team with any questions or concerns.