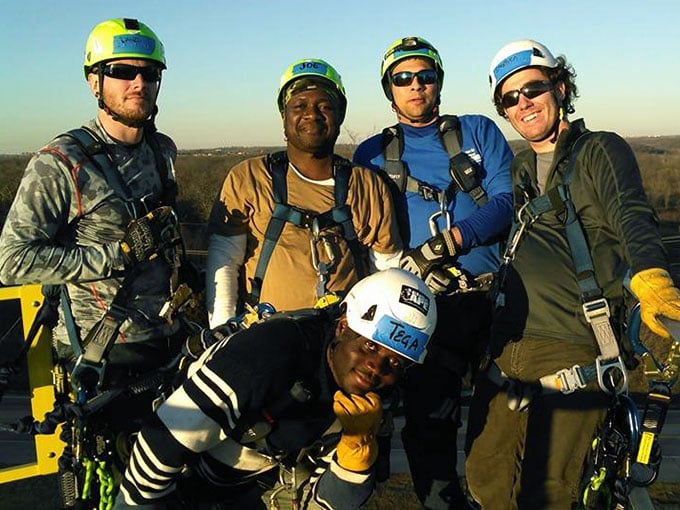 TAKE YOUR CAREER TO NEW HEIGHTS AS A WIND TURBINE TECHNICIAN
The Online Wind Turbine Certificate program is a modern and convenient way to obtain the skills and knowledge you need to succeed. Our online certificate provides you with a comprehensive education of wind turbines, general electronics, hydraulics and safety in relation to wind energy. Our engaging online classes are designed to prepare you with the knowledge you need to succeed.
Program Highlights
Career Centered Courses
Fundamentals of Electricity
Alternative Energy Systems
Industrial Safety
Fundamentals of Hydraulics
Principles of Wind Energy
Wind Physics Operations and Maintenance
Hands-on Training
Our Wind Turbine Technician program concludes with an exciting 10-day boot camp. Hands-on training in conjunction with your classwork experience allows you to build new skills and gain confidence in your new career. Boot camp is held in Kansas City, Missouri. During boot camp, you will learn and practice wind safety, learn basic electronics, and complete your OSHA 10 and First Aid/CPR Certifications
Are You Career Training Ready? Find Out!
Take The Pinnacle "Career Training Readiness Quiz" The fun, online quiz takes 3-minutes to complete and you'll get a personalized report. Identify your strengths and social style plus the training and positions you're best suited for. Get Your Career Training Readiness score now.
* - Program length is assuming continual full-time enrollment and satisfactory academic progress.
** - Median salary information and projected job growth is from the Bureau of Labor Statistics, U.S. Department of Labor, Occupational Outlook Handbook, Wind Turbine Technicians, on the Internet at https://www.bls.gov/ooh/installation-maintenance-and-repair/wind-turbine-technicians.htm (visited January 09, 2020).
Program Length
40 Weeks*
Est. Median Salary
$26.14 Hourly $54,370 Annual**
Who Hires PCI Grads
Vestas
Siemens
GE
Fusion Solutions
Ericsson
Skyclimber
Broadwind Energy
Granite Services
Tradesman International