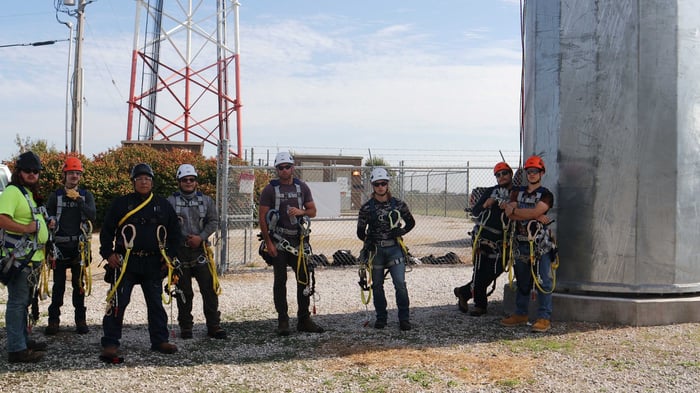 Ready for a career change?
This online program is designed to provide students with a broad knowledge of telecommunications maintenance and modifications necessary for entry‐level employment as a tower technician. The course includes training and certifications in OSHA‐10; CPR and First Aid; and Telecommunications Tower Technician 1 (TTT-1) from NWSA.
Graduates are prepared for entry‐level positions including, but not limited to, Cell Tower Technician, Communications Tower Technician, Tower Climber, Tower Technician, and Mapping Technician.
**Please note this course includes a residential component in Kansas City, Missouri, for 10 consecutive days.
Arrangements are provided for air travel to Kansas City, Missouri, lodging, program‐related local transportation, and meals during the boot camp. These costs are included in program tuition. Discretionary incidental expenses are the responsibility of the student. Students should plan to be in Kansas City, Missouri for ten consecutive days; additional time may be required for travel.
This course also includes resume writing, interviewing, and job search skills.
PROGRAM OBJECTIVES
Explain the basic skills and equipment needed to perform work in the wireless communications industry.
Identify the different types of towers in the industry and their structural components.
Explain various carrier standards.
Successfully obtain Telecommunications Tower Technician 1 (TTT-1) certification, including climber safety protocols, personal protective equipment use, hazard analysis, and rescue types, procedures, and equipment.
Identify various rope types and ratings used in the wireless industry and demonstrate the ability to inspect, maintain, and safely use those ropes in various environments and workloads.
Identify the different types of rigging equipment and discuss how to inspect and use it properly.
Organize a plan of action to properly rig and moving heavy objects in a safe and reliable manner, including load calculation.
Explain the history of various antenna system theories, components, and technologies.
Organize a plan of action to install various carrier-specific antennas and other equipment.
Demonstrate the ability to mount/dismount antennas and set azimuths.
Demonstrate the ability to correctly weatherproof cell tower equipment.
Generate closeout packages and reports.
Successfully obtain CPR and First Aid certification.
Successfully obtain OSHA‐10 certification.
At the core of this intensive and challenging capstone course is an 80-hour boot camp in Kansas City, Missouri. This time provides a review of program learning objectives, the opportunity to learn and practice program competencies, and earn OSHA-10, CPR, and First Aid certifications. At the completion of the boot camp students will take the National Wireless Safety Alliance Telecommunication Technician Level 1 Practical exam consisting of the following:
Demonstrating the ability to follow assembly instructions
Proper tool use
Climbing techniques
Signaling
Performing work at height weatherproofing
Tying knots
The PCI Experience
At PCI, your experience is what matters most to us! We strive to support your educational journey before, during, and after you graduate. We know when our students succeed, we succeed- that's the PCI Difference!
Learn more about how PCI stands out among other career schools. Contact us today for more information.
Pinnacle Career Institute is accredited by the Accrediting Commission of Career Schools and Colleges (ACCSC). The Accrediting Commission of Career Schools and Colleges (ACCSC) is a recognized accrediting agency by the U.S. Department of Education.
Are You Career Training Ready? Find Out!
Take The Pinnacle "Career Training Readiness Quiz" The fun, online quiz takes 3-minutes to complete and you'll get a personalized report. Identify your strengths and social style plus the training and positions you're best suited for. Get Your Career Training Readiness score now.
Program Length
30 Weeks
Program length is assuming continual full-time enrollment and satisfactory academic progress.
Salary and Job Outlook
To Find Out More Information about Estimated Salary and Wages go to the U.S. Bureau of Labor Statistics, Occupational Employment and Wage Statistics - Tower Technicians. Please click on the link below