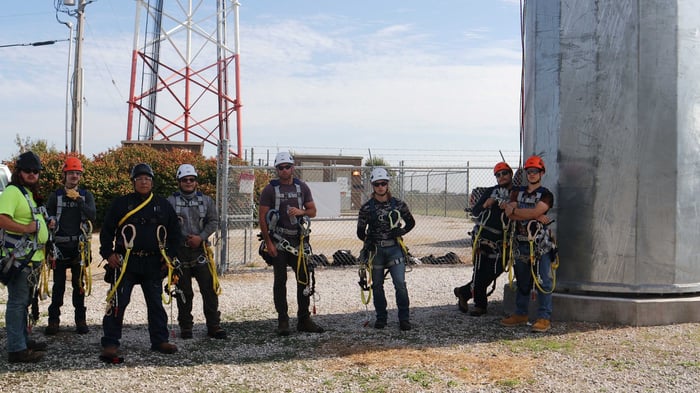 Ready for a career change?
The online tower technician program at Pinnacle Career Institute is designed to provide students with a broad knowledge of telecommunications maintenance and modifications necessary for entry-level employment as a tower technician. Our tower technician course includes training and certifications in OSHA-10, CPR and First Aid, and Telecommunications Tower Technician 1 (TTT-1) from NWSA.
Graduates of the PCI tower technician course are prepared for entry-level positions including, but not limited to, Cell Tower Technician, Broadcast Tower Technician, Tower Climber, and Tower Technician.
**Please note this course includes a residential component in Kansas City, Missouri, for 10 consecutive days.
Arrangements for air travel to Kansas City, Missouri, lodging, and program‐related local transportation are provided during the boot camp. These costs are included in program tuition. Discretionary incidental expenses are the responsibility of the student. Students should plan to be in Kansas City, Missouri for ten consecutive days; additional time may be required for travel.
Alongside the tower technician skills that will be taught throughout this program, students can also anticipate resume writing, interviewing, and job search skills to be covered.
PROGRAM OBJECTIVES
This online program, accompanied by 10 days of in-person classes in Kansas City, MO, will provide the essential skills to individuals interested in pursuing a career as a tower technician. The program is designed to prepare students to:
Explain the basic skills and equipment needed to perform work in the wireless communications industry.
Identify the different types of towers in the industry and their structural components.
Explain various carrier standards.
Successfully obtain Telecommunications Tower Technician 1 (TTT-1) certification, including climber safety protocols, personal protective equipment use, hazard analysis, and rescue types, procedures, and equipment.
Identify various rope types and ratings used in the wireless industry and demonstrate the ability to inspect, maintain, and safely use those ropes in various environments and workloads.
Identify the different types of rigging equipment and discuss how to inspect and use it properly.
Organize a plan of action to properly rig and moving heavy objects in a safe and reliable manner, including load calculation.
Explain the history of various antenna system theories, components, and technologies.
Organize a plan of action to install various carrier-specific antennas and other equipment.
Demonstrate the ability to mount/dismount antennas and set azimuths.
Demonstrate the ability to correctly weatherproof cell tower equipment.
Generate closeout packages and reports.
Successfully obtain CPR and First Aid certification.
Successfully obtain OSHA‐10 certification.
At the core of this intensive and challenging capstone course is an 80-hour boot camp in Kansas City, Missouri. This time provides a review of program learning objectives and provides an opportunity for students to learn and practice program competencies, and earn OSHA-10, CPR, and First Aid certifications.
After the boot camp, students of the tower technician course will take the National Wireless Safety Alliance Telecommunication Technician Level 1 Practical exam. This practical exam consists of:
Demonstrating the ability to follow assembly instructions
Proper tool use
Climbing techniques
Signaling
Performing work at height weatherproofing
Tying knots
The PCI Experience
At Pinnacle Career Institute, your experience is what matters most to us! We strive to support your educational journey before, during, and after you graduate. When our students succeed, we succeed - that's the PCI Difference!
Since the beginning, Pinnacle Career Institute has been dedicated to helping qualified individuals find success in a field that they're passionate about. For over 60 years, our team of professionals has dedicated time to ensuring every program that we offer provides the relevant training for the individual trades.
If you're ready to start your career as a tower technician, look no further than the online tower technician courses at Pinnacle Career Institute. Learn more about PCI and how we stand out among other career schools. Contact us today for more information.
Pinnacle Career Institute is accredited by the Accrediting Commission of Career Schools and Colleges (ACCSC). The Accrediting Commission of Career Schools and Colleges (ACCSC) is a recognized accrediting agency by the U.S. Department of Education.
Program Length
The tower technician course at Pinnacle Career Institute is a 30-week program. The duration is calculated assuming a student is enrolled full time and has satisfactory academic progress throughout the program.
This program is primarily online but does require a residential component in Kansas City, Missouri. The in-person portion of this program will last for 10 consecutive days. The cost of the 10-day stay in Kansas City is factored into the cost of the program, so there is no additional cost that students will be expected to pay to complete the course. Throughout this portion of the program, students will complete OSHA-10, CPR, and First Aid certifications as well as the completion of all required exams.
Salary and Job Outlook
After completion of the tower technician program at PCI, there are various opportunities that individuals can take to start their career in the tower technician industry. As with any career, positions will vary from company to company. In the same way, salaries and benefits will also vary depending on the state and the company.
To get the most up-to-date information regarding the salary for certain positions in various states is to check the U.S. Bureau of Labor Statistics, Occupational Employment, and Wage Statistics regarding tower technician positions. Visit their website for more information on the tower technician industry.
Who Hires PCI Grads
There are various employers that take on graduates of the PCI tower technician program. If you're ready to jump right into the next chapter of your career, the following are companies that have been known to hire on PCI graduates.
One Way Wireless Solutions
Ethos Distributed Solutions
AscendTek/SRU Telecom
MRC Towers
ADB Companies
Vikor
Tower Technician Career Path Options
Once the tower technician course has been completed, various doors open. When it comes to career path options, there are countless tower technician positions available across the country, all varying in what the day-to-day work will look like. Below are a few of the career paths available to individuals after completing the tower technician program.
Cell Tower Technician
As a tower technician, the day-to-day responsibilities would include installation, maintenance, and repair of the various electronic pieces of equipment that are on a cell site tower. Individuals who choose this career path will work specifically on cell towers. To pursue this career, individuals should be physically fit as they will be climbing the tower to complete the necessary maintenance and repairs.
Communications Tower Technician
Similar to cell tower technicians, communications tower technicians will perform maintenance on repairs, but on antennas and other transmitter systems used for communication. Communication towers are often tied to broadcasting services, such as radio.
Mapping Technician
If you are more interested in contributing to the mapping and production of towers, a career as a mapping technician is a great option. Individuals in this position will be responsible for helping cartographers and photogrammetrists produce and update the maps for the towers. This is a great job option for someone who is technically savvy and would rather be working on a computer than directly on a tower. This position will require professionals to combine data from various sources, use drones to take photos, and compile various other forms of data to create accurate maps.
Tower Climber
If you aren't afraid of heights, choosing a career as a tower climber is right up your alley. This position is very similar to communications and cell tower technicians, but the difference is that tower climbers are going to have an expansive knowledge base that allows them to work on a variety of towers. This is an extremely lucrative career path because it provides the liberty to chase jobs across the country. If you're one for travel and you don't mind heights, choosing to be a jack of all trades (or all towers) is an option that should be taken into consideration.
Apply to the Tower Technician Program Today
Now that you've gained a better understanding of what the tower technician program at PCI entails and the various career opportunities that await upon completion of the program, it's time to apply! Submit your application to the tower technician program today and start working towards your future. For any questions or concerns regarding the tower technician program, reach out to our team and we'll get back to you as quickly as possible.