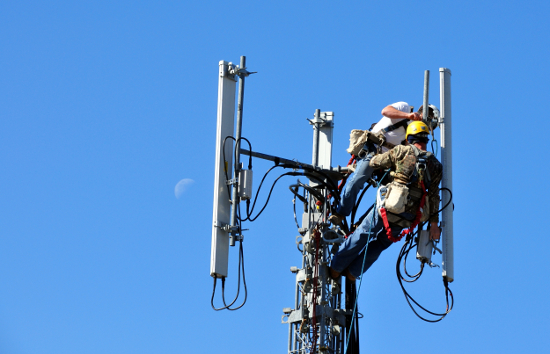 This is an accelerated one month course. This means you may use personal funding, military funding, and agency funding for the program, but will not be eligible for traditional financial aid.
This certification course is designed to provide students with a broad knowledge of telecommunications maintenance and modifications necessary to work in the cell tower industry as a Tower Technician. The course prepares graduates for the developing advancements in wireless technology today in which they need to have a firm basic working knowledge of how to safely climb towers, install, test, maintain, repair and remove a variety of Radio Frequency (RF) and antenna equipment. Upon successful completion, graduates will receive Peak Tower Technician Certification, which includes training and certifications in OSHA-30, CPR/First Aid, and Bloodborne Pathogens, RF Awareness, as well as PEAK Authorized Climber certification.
This course's tuition includes room and board in the Kansas City, Missouri area as well as transportation from the hotel to the classroom and training towers. Travel to Kansas City is not included.
The program has a Military Program Director on staff and available to students before and during the program.
COURSE OBJECTIVES
Demonstrate a sound understanding of climber safety, climbing equipment, personal protective equipment, hazard analysis, and different safe rescue techniques.
Understanding of the principles, theories, inspection, and proper use of the different types of rigging/knots commonly used in telecommunications.
Key understanding of standards, skills, and equipment when working on diverse types of towers, installing various telecommunication providers.
Explain the basic essentials to safely administer First Aid / CPR / AED / Bloodborne pathogens
Demonstrate understanding of the Health and Safety Rights provided by OSHA, as well as OSHA's regulations pertaining to hazards in the workplace.
Identify hazards in the workplace and implement control measures.
Demonstrate the ability to correctly weatherproof and prolong cell tower equipment.
Demonstrate the ability to mount/dismount various carrier-specific antennas and how to set azimuths.
Demonstrate the ability to identify components of an antenna system and know the nomenclature and common terms associated with it.
Understand and demonstrate proper system troubleshooting techniques and general closeout process.
Understand safety and control measures when dealing with radio frequencies.
The PCI Experience
At PCI, your experience is what matters most to us! We strive to support your educational journey before, during, and after you graduate. We know when our students succeed, we succeed- that's the PCI Difference!
Learn more about how PCI stands out among other career schools. Contact us today for more information.
Pinnacle Career Institute is accredited by the Accrediting Commission of Career Schools and Colleges (ACCSC). The Accrediting Commission of Career Schools and Colleges (ACCSC) is a recognized accrediting agency by the U.S. Department of Education.
Are You Career Training Ready? Find Out!
Take The Pinnacle "Career Training Readiness Quiz" The fun, online quiz takes 3-minutes to complete and you'll get a personalized report. Identify your strengths and social style plus the training and positions you're best suited for. Get Your Career Training Readiness score now.
* - Program length is assuming continual full-time enrollment and satisfactory academic progress.
** - Median salary information and projected job growth is from: Bureau of Labor Statistics, U.S. Department of Labor, https://www.bls.gov/oes/2017/may/oes492021.htm (last updated March 30, 2018).
Program Length
One Month*
Job Placement Rate
N/A
Who Hires PCI Grads
$26.92 Hourly | $56,000 Annual**