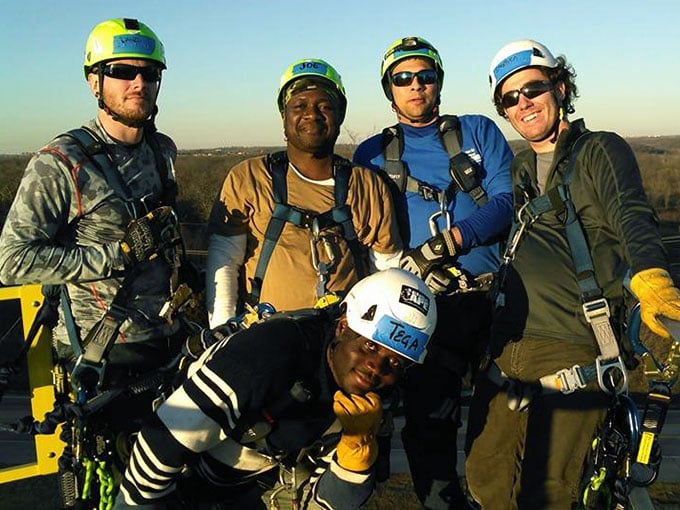 Develop the Skills You Need to Become a Wind Turbine Technician
Our dynamic Wind Turbine programs provide you with a broad knowledge of the wind energy industry to help you achieve your Wind Turbine Technician Certification. Our quality programs are designed to quickly prepare you to meet the demands of the growing and powerful wind energy field. You'll learn the skills you need to excel on the job as a Wind Turbine Technician, including how to repair, maintain, and troubleshoot wind turbine components. Your education with PCI will give you the edge you need to secure the successful career you want.
Wind Turbine Technician Program Highlights
Career Centered Courses PCI's Wind Turbine Technician Program includes classes that offer a blend of education, safety, and career training in a hands-on environment. The classes include topics such as general electronics, hydraulics, and safety.
Hands-on Experience at Boot Camp Our students experience an exhilarating boot camp before graduation. During this time, students will practice their skills on wind turbines and earn required certifications such as the Tower Climb, OSHA 30 and First Aid/CPR. The time spent in boot camp will build confidence and ensure that students have the proper amount of hands-on training. Boot Camp is held at a Pinnacle Career Institute Campus in Kansas City.
Education That Works for Your Life Our flexible class formats and scheduling minimizes your time commitment but allows maximum benefits for you and your future. You will receive a quality, hands-on education that fits your lifestyle while learning the skills that can help you excel in the wind industry.
Plan Ahead
If you want to take your career to even greater heights, PCI offers a Wind Turbine Technician associate degree program. Unlike what you might expect from some other Wind Energy Technician schools, PCI's Wind Turbine Technician Associate Degree builds on the certificate program and will prepare you for even more opportunities.
The PCI Experience
At PCI, your experience is what matters most to us! We strive to support your educational journey before, during, and after you graduate. We know when our students succeed, we succeed- that's the PCI Difference!
Ready to learn more about how PCI stands out among other career schools? Contact us today for more information.
Pinnacle Career Institute is accredited by the Accrediting Commission of Career Schools and Colleges (ACCSC). The Accrediting Commission of Career Schools and Colleges (ACCSC) is a recognized accrediting agency by the U.S. Department of Education. Financial aid is available to those who qualify.
Are You Career Training Ready? Find Out!
Take The Pinnacle "Career Training Readiness Quiz" The fun, online quiz takes 3 minutes to complete and you'll get a personalized report. Identify your strengths and social style plus the training and positions you're best suited for. Get Your Career Training Readiness score now.
Program Length
40 Weeks*
Est. Median Salary
$27.03 Hourly $56,230 Annual**
* - Program length is assuming continual full-time enrollment and satisfactory academic progress.
** - Median salary information and projected job growth is from: Bureau of Labor Statistics, U.S. Department of Labor, Occupational Outlook Handbook, Wind Turbine Technicians, on the Internet at https://www.bls.gov/ooh/installation-maintenance-and-repair/wind-turbine-technicians.htm (visited April 26, 2021).
Who Hires PCI Grads
Vestas
Siemens
GE
Fusion Solutions
Ericsson
Skyclimber
Broadwind Energy
Tradesman International
Nordex