Career Advancement and Leadership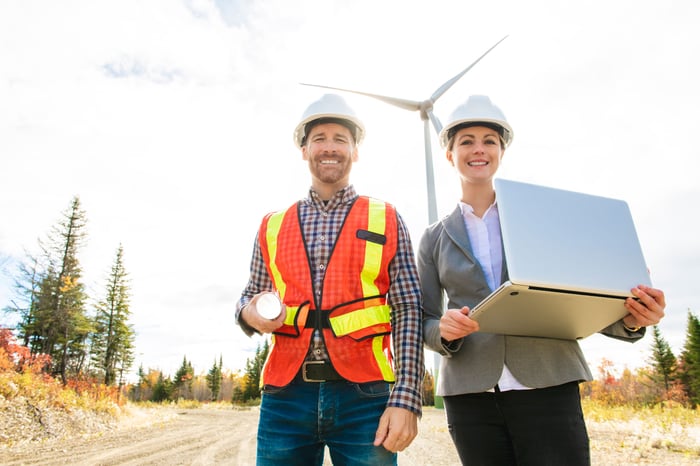 Take Your Career to New Heights
This Online occupational associate degree program requires students to first complete the Wind Turbine Technician certificate program. This associate degree is designed to allow graduates to advance their careers by providing them with a more in-depth understanding of wind turbines, wind site management, and the information technology used in the wind industry along with the essential communication and managerial skills to assume supervisory positions in their field.
Graduates are prepared for entry-level positions including, but not limited to, Wind Site Supervisor, Wind Site Manager, Wind Energy Supervisor, Wind Energy Manager, Wind Turbine Installation Supervisor, Wind Turbine Supervisor.
Wind Turbine Technology Highlights
Identify the elements that are necessary to be successful as a supervisor
Define leadership and describe the difference between a leader and a supervisor
List actions a supervisor can take to improve team performance
Explain the purpose and importance of technical communication
Describe the steps to achieve clarity and conciseness in technical writing
Create properly formatted memos, letters, email, instructions, and user manuals
Define the importance of managerial communication in the workplace
Discuss the considerations for technology use in workplace communications
Discuss the importance of nonverbal communication and interactive listening
Discuss the advantages, challenges and potential for wind energy
Explain wind turbine technologies
Discuss issues related to the aerodynamics of vertical axis wind turbines
Discuss the design elements of vertical axis wind turbines
Explain wind site layout, spacing, and general arrangement
Explain the processes and procedures of life-cycle assessment
Discuss the future of wind energy and wind site management
Describe basic accounting practices of wind site management
Create charts, tables, and pivot tables in Excel
Describe the fundamental elements of a SCADA system
Describe network solutions for the wind industry
Plan Ahead
Have you been thinking about the next steps beyond your role as a Wind Turbine Technician? If you want to take your career to even greater heights, PCI offers a Wind Energy Technology associate degree program. PCI's associate degree program builds onto the certificate program so you'll be ready for even more opportunities.
Are You Career Training Ready? Find Out!
Take The Pinnacle "Career Training Readiness Quiz" The fun, online quiz takes 3-minutes to complete and you'll get a personalized report. Identify your strengths and social style plus the training and positions you're best suited for. Get Your Career Training Readiness score now.
Program Length
70 Weeks
Program length is assuming continual full-time enrollment and satisfactory academic progress.
Salary and Job Outlook
To Find Out More Information about Estimated Salary and Wages go to the U.S. Bureau of Labor Statistics, Occupational Employment and Wage Statistics - First Line-Supervisors. Please click on the link below
Outlook - First Line-Supervisors
Who Hires PCI Grads
Vestas
Siemens
GE
Fusion Solutions
Ericsson
Skyclimber
Broadwind Energy
Tradesman International