Career Advancement and Leadership
In order to complete the occupational associate degree program for wind energy technology, students must first complete the Wind Turbine Technician certificate program, also available through Pinnacle Career Institute.
This associate degree is designed to allow graduates to advance their careers by providing them with a more in-depth understanding of wind turbines, wind site management, and the information technology used in the wind industry along with the essential communication and managerial skills to assume supervisory positions in their field.
Graduates of the Wind Energy Technology program are prepared for entry-level positions including, but not limited to, Wind Site Supervisor, Wind Site Manager, Wind Energy Supervisor, Wind Energy Manager, Wind Turbine Installation Supervisor, and Wind Turbine Supervisor.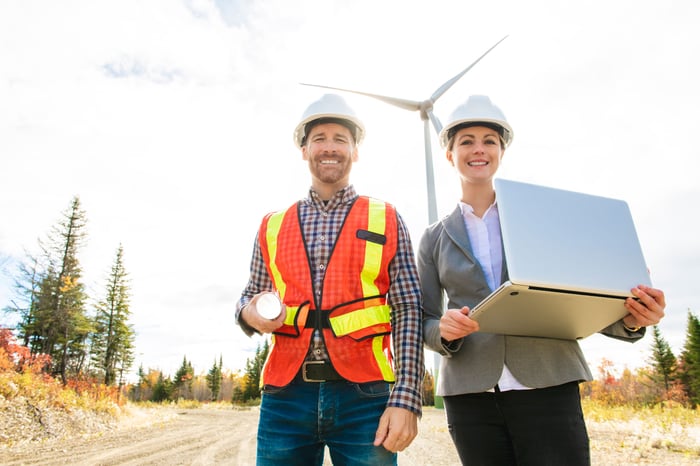 Take Your Career to New Heights
Pinnacle Career Institute is dedicated to providing high-quality trade school programs for individuals interested in the wind energy industry, and this program is no different. With this additional education, individuals who are looking to take their career to new heights can work towards learning additional skills that can open new doors down the line.
If you're interested in learning more about this occupational association degree, contact our team and we'd be happy to provide you with additional information to ensure this is the right fit for you and your career goals.
Wind Turbine Technology Highlights
For certain operation and maintenance positions within the wind energy industry, employers seek skilled technicians whose knowledge goes beyond that of a wind technician. The Wind Turbine Technology program at PCI provides a wide range of additional skills that will help graduates do the following:
Identify the elements that are necessary to be successful as a supervisor
Define leadership and describe the difference between a leader and a supervisor
List actions a supervisor can take to improve team performance
Explain the purpose and importance of technical communication
Describe the steps to achieve clarity and conciseness in technical writing
Create properly formatted memos, letters, email, instructions, and user manuals
Define the importance of managerial communication in the workplace
Discuss the considerations for technology use in workplace communications
Discuss the importance of nonverbal communication and interactive listening
Discuss the advantages, challenges and potential for wind energy
Explain wind turbine technologies
Discuss issues related to the aerodynamics of vertical axis wind turbines
Discuss the design elements of vertical axis wind turbines
Explain wind site layout, spacing, and general arrangement
Explain the processes and procedures of life-cycle assessment
Discuss the future of wind energy and wind site management
Describe basic accounting practices of wind site management
Create charts, tables, and pivot tables in Excel
Describe the fundamental elements of a SCADA system
Describe network solutions for the wind industry
Plan Ahead
Have you been thinking about the next steps beyond your role as a wind turbine technician? If so, this program is a fantastic option to follow the Wind Turbine Technician program. While in the Wind Turbine Technician program, students will gain a basic education for entry-level roles within the wind energy industry. With an occupation associate's degree in Wind Energy Technology, students in this career path are able to expand the types of jobs that they will be qualified for post-graduation.
Program Length
Given that this is a program that ends in an occupational associate degree, the length of the program is a bit longer than that of other programs available through PCI. The Wind Energy Technology Program at PCI is a 70-week program. This timeline is calculated assuming that a student is enrolled full-time and has satisfactory academic progress throughout the course of the program.
Salary and Job Outlook
After completion of the wind energy technology program at PCI, there are various opportunities that individuals can take to start, and even advance, their career in the wind field industry. As with any career, positions will vary from company to company. In the same way, salaries and benefits will also vary depending on the state and the company.
To get the most up-to-date information regarding the salary for certain positions in various states is to check the U.S. Bureau of Labor Statistics, Occupational Employment, and Wage Statistics regarding wind turbine technician positions. Visit their website for more information on the wind energy industry.
Job Opportunities
One of the primary reasons that students choose to complete this additional education after completing the wind turbine technician program is because of the additional job opportunities that one can be considered qualified for.
Essentially, the additional education that one receives from this program provides them with insight into how to lead a team of wind turbine technicians as well as how to compile reports and gather data on wind turbines. While some may get exposure to this throughout their time as wind turbine technicians, many will not.
If a leadership position within the wind energy industry is something that you are interested in and are hoping to achieve, this course can provide you with the education and skills to feel confident applying for the role.
Below are a few of the job opportunities that this additional education can help someone prepare for.
Wind Site Supervisor
Wind Site Manager
Wind Energy Supervisor
Wind Energy Manager
Wind Turbine Installation Supervisor
Wind Turbine Supervisor
Who Hires PCI Grads
There are various employers that take on graduates of the PCI Wind Energy Technology program. If you're ready to jump right into the next chapter of your career, the following are companies that have been known to hire PCI graduates.
Vestas
Siemens
GE
Fusion Solutions
Ericsson
Skyclimber
Broadwind Energy
Tradesman International
Apply to the Wind Energy Technology Program Today
If you are wanting to expand your knowledge on wind farms and the operation and maintenance activities that additional roles in the wind energy industry require, this program is the next step to take. Whether you're in the process of finishing up your Wind Turbine Technician program and you're wanting to plan ahead or you're an individual already in the industry looking to take your career to new heights, our team is here to help you.
Ready to enroll? Apply online today and start working towards your future. If you're not ready to get started or reach out to the PCI team today and let our staff answer any questions you may have.